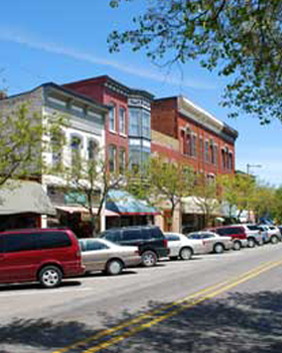 The charming harbor town of South Haven has long been a favorite spot for vacationers. Packed with wonderful restaurants and pubs, great shopping, museums and unique art galleries, it is no surprise that South Haven has been a popular year round vacation destination for over 140 years.
You'll really feel like you're on vacation when you spend the day out on a boat fishing the waters of Lake Michigan for fresh trout and salmon. Great breezes make for excellent wind-surfing and sailing or grab a rope and let the spray wash away your worries while you jump the waves water skiing and all this is in addition to the miles of clean, warm sandy beaches on which to swim, play or just relax. There is never an uneventful moment here, unless you want one.
Going to the beach isn't the only fun to be had though. Land lovers will have a blast playing one of South Haven's championship golf courses, horseback riding, or playing tennis, and if you want to take it down a notch, tour one of the beautiful vineyards in the area or spend a glorious afternoon being pampered at a local salon or day spa.
Did you know that South Haven is one of the blueberry capitals of the US? The annual National Blueberry Festival is just one of many festivals and fairs to enjoy around the area for some good old fashioned fun. Summers at the beach are great, but South Haven in the fall is something not to be missed. Harvest time brings a glorious parade of color and vibrancy to the community. It's the perfect time to enjoy crisp autumn apples from the local farmland, go on hay rides, visit a pumpkin patch, navigate a corn maze or simply let the spectacular color of the changing leaves take your breath away.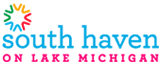 There is so much to see and do around South Haven; here are a few links to some of our favorite places. We think you will find them helpful in planning an exciting and eventful vacation or help you while you are staying with us. Please visit the South Haven Visitors Bureau web site to learn more about the South Haven area.
Things to do in South Haven, MI
South Haven Restaurants
Cafe Julia
Phoenix Street Cafe
Tello's Trattoria
Clementine's
Sherman Dairy Bar
Sophie's Steakhouse
Everyday People Cafe
Maria's Taste of Italy
South Haven Shopping
The Blueberry Store
Khnemu Studio
Biddy Murphy's Celtic Goods
SOHA Surf Shop
Black River Books
Decadent Dogs
Vineyards Near South Haven
Explore Michican Wines
Lake Michigan Shore Wine Trail
Warner Vineyards
Domaine Berrien Cellars & Winery
Fenn Valley Vineyard
Karma Vista Vineyards & Winery
St. Julian Winery
Tabor Hill Winery & Restaurant
Contessa Wine Cellars
South Haven Sports and Activities
Gingerman Raceway
Hawks Head Links Golf Course
Kal-Haven Trail
Wild West Ranch
South Haven Fishing Charters
Beeches Golf Course
Shoreline Wellness Center
Theater, Arts & Cultural Attractions
Moore Movie Theater
Our Town Players
Blue Coast Artists Cultural Tour
Historical Assoc. of South Haven
Michigan Maritime Museum
Salons & Spas
Farm Markets & Orchards
Barden's Farm Market
Big Dan's U-Pick'em Farm Market
DeGrandchamp Blueberry Farms